To purchase any of our books, use the "Add to Cart" button, or send us a note in the contact form.
Books for Writers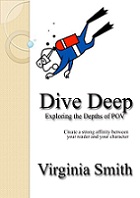 Dive Deep
Exploring the Depths of POV
Virginia Smith
Retail Price: $6.00
Publisher's Discount Price: $4.80
Though every aspect of writing is critical in producing a good story, one of the most important skills a writer can employ to craft a gripping novel is Point of View. In this booklet, fiction veteran Virginia Smith guides writers through the shallows - the basics of viewpoint, tense, and scope - and into the depths of Deep POV. Learn and practice the techniques of creating a strong affinity to your characters that will keep your readers up late at night, turning pages to find out what happens next.
(Writing Craft)
Shipping is $3.59 per book. For faster service or to order multiple books and save on shipping, contact us directly through the contact form or call us at (385)722-6945.