To purchase any of our books, use our convenient shopping cart, or send us a note in the contact form.
Fiction
Novels that capture your imagination and transport you into stories that will resonate long after you reach The End.
Letters Across Time
Retail Price: $13.99
Publisher's Discount Price: $11.92
Also available on Kindle
Time is on his side - but has hers run out?
-evening run, Lindsey Hayden is nearly killed along the Oregon coastal highway. She cannot explain the mysterious doorway that appears in the middle of the road, or the stranger who steps through the lighted entryway to save her life.
Alex Northam cannot deny that Lindsey's letters reached across time and changed him. Though he was sent to rescue a child, surely saving Lindsey's life won't have an adverse effect on his mission. Letting her die is not an option. But Alex soon discovers that the fate of the woman he cares fore becomes the epicenter of his assignment. His selfless--some say reckless--act may have drastic consequences. Not only for Lindsey, but for all of humanity.
Locker 572
Retail Price: $15.49
Publisher's Discount Price: $12.39*
Also available on Kindle.
Welcome to North Harbor High…where a girl can get bullied to death.
Sheridan Alexander moves to her fifth foster home since kindergarten. Her two goals are to graduate and exit the system without any more trouble. That is until she is assigned locker 572 and finds the abandoned journal of Ribbon Barber.

The journal pages reveal the endless insults and abuse flung at an innocent girl. "Sticks and stones may break your bones but words will never hurt you." Yeah, right. Words of hate scar forever. Sheridan needs to find Ribbon and protect her before it's too late even if it means giving up her most stable home in years. Ribbon has a right to be left alone.
The Days of Noah
Retail Price: $13.49
Publisher's Discount Price: $10.79*
Purchase for $4.99 on Kindle or Nook.
Belief in the One God is dangerous in Cainlan, a city founded on the worship of the god Cain. But when the daughter of a pagan priestess meets the son of a religious fanatic, she is drawn to Shem's caring manner and deep faith. Eliana believes his assertion that the One God will wipe the earth clean of the corruption that fills it, especially when she discovers a terrifying secret known only to those high in the government's ruling council.
Though desperate to escape her destiny, Eliana's life has been preordained. Not even Shem's God can rescue her from the fate for which she was born - becoming the next high priestess to the god Cain.
Moon Dancing
Retail Price: $13.49
Publisher's Discount Price: $10.79
Purchase for $4.99 on Kindle or Nook
A Rogue Black Stallion. A Sacred White Buffalo. Mysterious Night Voices.
Megan Gillespie returns to Wyoming to fulfill a promise. Nothing more. Yet when the unexplainable happens she is drawn into the intrigues surrounding her uncle's ranch... intrigues that escalate the longer she stays. How can prized mares simply vanish? Who is the Native American that appears at night. Why is her uncle determined to keep her from leaving? Torn between the desire to escape and the need to resolve these long-held secrets, Megan uncovers truths that threaten her life...and stir her to the depths of her soul.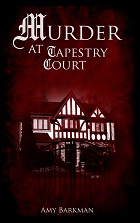 Murder at Tapestry Court
Retail Price: $10.95
Publisher's Discount Price: $8.76
Purchase for $3.99 on Kindle or Nook
Psychologist Elizabeth Daily flees to the gated community of Tapestry Court for a sabbatical to untangle parts of her own life, both professional and romantic. But the shadows of decades old secrets interwoven with present day mysteries there are distracting - and may be dangerous. Among the old world setting and charming neighbors, does a decade old murderer hide behind a tapestry of lies? And can Elizabeth discover the truth in time?
Purchase on Kindle or Nook
*Discounts for bulk orders available. For details contact us through the comment form on this site or by phone
Shipping is $3 per book. For faster service or to order multiple books and save on shipping, contact us directly through the contact form or call us at (385)722-6945.